Last updated on February 24, 2023
Dubai is an attractive and best place to start a business for foreign investors. And in order to start a business in Dubai you need a trade license in Dubai. Which is the basic and most important document requires for a company. This trade license Dubai allows you to conduct business activity in the State of Dubai. But without it you not allow to operate any kind of activity whether it is online or offline.
Dubai stands as a major source of attraction for expat from across the world. Like every other country Dubai has also has set some rule for a trade license Dubai. Thus, acting as per the right guide lines for trade license in Dubai registration along with its pre-requisites; shows the best interest of the expat investors to comply with the UAE laws. In favor of these aspiring expat. We will throw some light on the rule as well as procedure; that is how to get trade license in Dubai. Before starting business operations in Dubai. There is some rule as well as some basic regulation which must be full fill.
Trade license Dubai
The DED with a support from the Dubai Chamber of Commerce & Industry. Is the legislative body that regulates and controls the licensing procedures for an entity in Dubai.
However, trade license Dubai for some categories of business requires approval from certain ministries and other authorities. For example, banks and financial institutions from the Central Bank of the UAE. Insurance companies and related agencies from the Ministry of Economy and Commerce. Manufacturing from the Ministry of Finance and Industry. And pharmaceutical and medical products from the Ministry of Health. More detailed procedures apply to businesses engaged in oil or gas production and related industries.
Practicing some trade activities (e.g. jeweler and insurance); need the submission of a financial guarantee issue by a bank operating in UAE. In general, all commercial and industrial businesses in UAE must be register; that is with the Chamber of Commerce and Industry in the respective Emirate.
Free zone vs main land trade license Dubai
You need share capital for a free zone trade license Dubai. No capital is requiring for a Dubai main land license.
A free zone trade license Dubai is strictly associate with a free zone office space. Main land business can be run from a cheaper business center.
Free zone trade license Dubai and visa costs are cheaper. But it restricts you to work within free zones and international regions only with a trade license Dubai economic department. You can have clients from anywhere in UAE as well as internationally.
The long term free zone benefits and services are more appropriate for a large international company than a small business owner.
In both types of companies, there are no income taxes. And if you are thinking of starting a professional practice. Then you own the company 100%, regardless to say as to whether it's in free zone or mainland Dubai.
How to get trade license in Dubai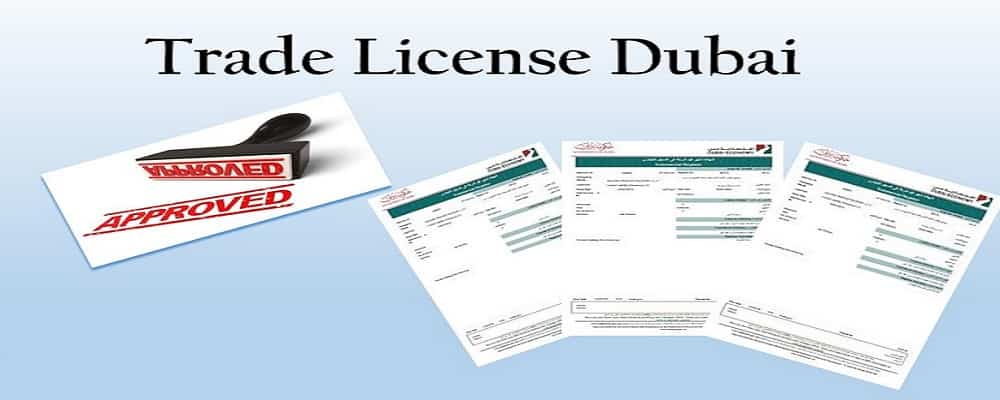 Before initiation of any business license in Dubai. The following requirements to be follow in order to meet the legal formalities of all concern authority. And to guarantee maximum commercial benefit for the business owner.
Designate the category which the business falls into commercial, industrial and professional.
Determine all the related business activities to be included within each business license in Dubai (Maximum 10 per license).
Make a decision as to your business appropriate legal status in UAE.
Select an appropriate trading name for the business.
Submit an application to the Department for initial approval.
Register a trade name after receiving initial approval (If you don't have previously reserved a trade name).
Lease office for business license Dubai to obtain approval from the Authority.
Prepare all require documents; such as MOA and approvals from other relevant government body which may be necessary to each case.
Submit a further application to the Department to obtain the final license.
Pay the required fees.
Types of business license Dubai:
There are so many steps for how to get a trade license in Dubai. But the main step is to determine your business activity type. Right now, there are almost 2,100 business activities available in Dubai. Business license in Dubai is generally categorized into three types. So it depend on the nature of your business to select one which suit to your business. The categories are:
Commercial business license in Dubai
Industrial business license in Dubai
Professional business license in Dubai
Commercial business license in Dubai:
This type of a license is issue to a kind of entity that are involve in trading. Such as buying as well as selling of goods. But note that you are only allowed to perform the activity mention in the license. You can get this type of a license for the following activity:
Imports as well as exports need this type of a license
Electronics trading also need this type of a license
Car rental services as well as Brokerage firms
Logistics firms s well as Real estate brokerage
Building material trading need this type of a license
Industrial trade License in Dubai
It is a fact that industrial zone is one of the main focus area of UAE. Industrial trade License Dubai is issue to those who are involve in manufacturing activity. The company must have a physical office within UAE for this type of a license. Companies that requires industrial license are the following:
Manufacturing of food products need this type of a license
The production of cosmetic product need this type of a license
Metal casing as well as making of Furniture
Packaging
Professional trade License in Dubai:
Professional trade License in Dubai is issued for business providing services. For this type of a license you need a local agent. But the main thing is that you will have 100% ownership of all the profits and operations. Following are the types of business that requires this type of a licenses:
Law firms need this type of a license
Management consultancy
Educational institutions
IT services also need this type of a license
Audit services also need this type of a license
Accounting as well as Marketing consultancy need this type of a license
Medical services
We are a friendly team of private company setup advisor. And we are ready to guide and assist you in your company setup. We will also guide you on a legal structure of your company and type of license need for your activity. And we will also guide you in bank account in Dubai. A part from all these we can also help you in your residence visa in the UAE. Contact us today in order to get free consultation as well as discussion with one of our expert consultants. Who will also advise you on your license and business nature. And any other thing which need for your trade license in Dubai.
In order to set up your company easily. We will assign you one consultant from day first and until you set up your company.
Submit Your Review
Our Client Reviews
Trade license in Dubai
I have got my trade license with the help of TLD consultancy. It was a good experience; they were very quick to respond and they were very transparent in their dealing. I highly recommend TLD for company setup in Dubai.